Booking Info • Light Tackle Saltwater Flats • Nearshore Fishing Central Florida
Captain Drew's Cell • (352)223-7897
Email • [email protected]
or if you have trouble opening the email up above here, then copy and paste this into your email senders name box. Also if you use AOL or Road Runner they are having issues with them being sent or received, so you may want to double check I get it or call me: [email protected]
Florida Inshore Fishing Charters
Oak Hill/New Smyrna Beach/Cocoa Beach/Titusville/Daytona, Florida 32759
Use the PayPal "Buy Now" Button below to take you to the deposit information page and place your deposit down. Y
ou DO NOT need a PayPal account to use this feature
, just a valid credit card, debit or bank account. It is easy, safe and secures your date immediately with no delay. There is a 5% convenience fee assessed for this transaction.
Mosquito Lagoon Backcountry • Ponce Inlet Nearshore • Port Canaveral • Sebastian • Indian River Flats Fishing
Book your trip today with Florida Inshore Fishing Charters and Captain Drew Cavanaugh. Inshore light tackle saltwater flats fishing, backcountry, fly fishing and sight fishing on the Mosquito Lagoon, Ponce Inlet, Sebastian Inlet, Atlantic near coastal beaches and north Indian River. Fishing charters on the central Florida inshore and near coastal waters of the Orlando, Kissimmee, New Smyrna Beach, Melbourne, Titusville, Edgewater, Cocoa Beach, Oak Hill, Palm Bay, Ormond Beach, St. Augustine, Port Canaveral, and Daytona Beach areas.

Please provide as much information as possible when contacting, this will help in giving you the best possible trip you can get on the water with us, including: trip dates you are interested in, your fishing experience, whether you want to go fly fishing or use spin fishing (conventional) or both fly fishing and spin fishing, sight fishing, flats fishing, near shore, tarpon fishing, redfish fishing, etc. Fish preferences, if any, duration of the trip 4, 6 or 8 hours, bait, fly fishing or spinning or both. The number of anglers interested in going, 1, 2, 3 or 4. The more information you give, the better, so we will be able to meet your needs and answer your questions. We welcome all ages and experience levels. This is a world class trophy sport fishing area that can be be fun for everyone.

Thank you,
Captain Drew Cavanaugh • (352)223-7897 • [email protected]
Get a Look at the type of Fishing you will be doing on the waters here in east central Florida, Visit my YouTube Channel • Please Subscribe!
Please Read Important Information About Mosquito Lagoon and North Indian River Fishing Guides
Florida Inshore Fishing Charters & Captain Drew Cavanaugh holds a current valid federal 2016 CUA Permit, (Commercial Use Authorization) #001, with the U.S. Fish and Wildlife Service/Department of Interior/Canaveral National Seashore/National Parks Service. Valid through 12-31-2016 to operate as a recreational sport fishing guide and charter boat for hire captain on the Mosquito Lagoon, Indian River, Canaveral National Seashore, No Motor Zone and the Merritt Island National Wildlife Refuge. All fishing guides on these waters are required by federal law to have this.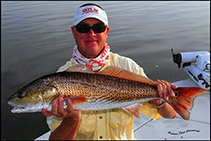 Orlando Saltwater Flats Fishing Guide • Captain Drew Cavanaugh Cell • 352-223-7897