Client Testimonials & Reviews
Testimonials Page II
The following are from emails I have received after the charter with these clients. They are in the raw form.

Hi Drew,
Ross and I had a great time fishing, I really appreciate you taking Ross out even though he is only 8. He had a great time and was talking about it today (you were right, he said catching the hermit crabs were one of the highlights!).
Safe boating (and you do have one of the best jobs out there!!).
Cheers
Dave & Ross
Captain Drew,
I cannot thank you enough for your time Tuesday, the boys had a fantastic time!  I am so glad the 'stars aligned' and we got to meet with and work with you! The pictures were great and we can't wait to come back!
Thanks again,
Beth Hall
Captain Drew,
We had a great time fishing with you. Next time down you will be our guide. Thanks for the great pics.
Thanks again,
Tom & Wendy
Capt. Drew
Thanks for a great time, Drew! My son and I thoroughly enjoyed it. I
will pass on photos I took during the day as well. It may take some
time as I have several hundred other pictures to process though.
Rick Miller
Capt. Drew
Thanks for the pics Drew, you made it a memorable trip. Mission accomplished. Thanks for the hard work.
Dave McParlane
Thanks Capt Drew we had a great time and some good laughs. Jen and River really enjoyed their trip. Tell Capt Chris thanks as well, we were happy just to hook some fish! Neil
Hi Drew, we had a wonderful time too. Thank you for all your effort and the photos. I should be able to send my photos to you over the weekend.
Also, we had a awesome viewing of the shuttle launch. I'll send some of my photos. Did you go out on the water to watch?
Regards,
Eric
Hi Drew, If we decide to go flats fishing again we will be in touch. The wind made the Cobia fishing impossible since they were only running miles out and going that far with the heavy wind did not appear to be a good idea.
Thanks,
Paul
Drew
Thanks from Marilyn and I for a great day. I admired your enthusiasm and attention to detail. You certainly have a well thought out and effective system. Marilyn is really stoked over the fish she caught. I'll be recommending you to others. Stay in touch.
Bob Klaproth
Hey Drew,
We had a great time! looking forward to it again one day. Will definitely refer you to a few guys at work who I told about our upcoming trip. They have been wanting to fish the Mosquito Lagoon with a charter as well. Appreciate all the info you gave us. Take care and tight lines!
Kevin
Drew,
Thanks for the pics. They turned out great. We had a lot of fun too. My dad really got the Florida fishing bug while he was here. We went out Monday evening after getting back with you and caught 4 small snook. One was about 25 inches though, so not bad for us!
Keep in touch.
Taylor Childress
Drew,
Thank you for the pics - Larry and I had a good time. Just getting out is fun and catching fish is a bonus. You are our guy when we come back . Thank you again and have a great season with much success.
Mark and Larry
Drew,
Had a great time. Learned a lot from you. Conditions were tough and we appreciated all your hard work - Stu Apte would have been proud! Putting us on the big reds really made the experience special.
Looking forward to another trip this winter.
Allen
Drew,
We had a blast. We're already talking about a return trip this winter. I knew one red fish would have the old man hooked. Thanks again.
Roger.

Hi Drew!
We did receive the pictures, which are appreciated!
Looking forward to seeing those tails on the video too!
Steve
Captain Drew,
I wanted to thank you for a great experience today. I really appreciate you getting me onto some reds. I have your info, so I'll be sure to call you again to do some in-shore fishing. What time of year would you say is optimal? By the way, tarpon are still on my bucket list. Looking forward to seeing the photos. PS, did you see the moon rise tonight? Spectacular!
Thanks again,
Greg Weitz
Drew,
I really appreciate your time. I had a great time and look forward to the next trip – I just need an excuse to return to Florida. I checked out your web site - it's nice. I look forward to seeing the pictures.
Thanks again,
Greg
Greetings Drew
Well we are back home and it's still winter here. Brrrrr. Enjoyed my fishing trip with you and was hoping you might send me the photos of the fish I caught that day. Please included one of your sunrise shots on the water if it's not to much trouble. Hope to be back next year. Will call when I nail down the dates.
Cheers
Doug
Capt. Drew
I had a great time today, totally different than any kind of fishing trip I have ever been on . Hope to get together again someday.
Maybe we can put a few more big ones in the boat next time.
Thanks,
Scott Cook
Florida Inshore Fishing Charters
Captain Drew Cavanaugh • (352)223-7897 • [email protected]
Visit my YouTube Channel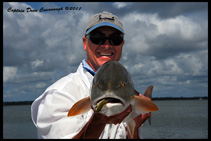 Captain Drew Cavanaugh
East Central Florida Saltwater Fishing Guide