Tips on Hiring a Fishing Guide
So you have decided that you want to go fishing and would like to hire a fishing guide but have never done this until now. You have several questions that you want answered and are not really sure what to expect or how to go about asking them. You want to make sure that the guide you hire is the right one for you, your budget and your fishing charter desires and needs. These are just a few tips that you can apply to hiring a fishing guide any place in the world. Whether it is sight fishing redfish on the Mosquito Lagoon, bone fishing in the Keys or bass fishing central Florida lakes to snook and shark fishing Ponce Inlet.
We will talk mostly here about saltwater flats fishing guides and near shore beach fishing trips here in the Orlando Florida area because this is the business we are in and that I specialize with. However the basic questions can be asked for almost any type of fishing charters that are offered around the world. Flats fishing is a generalized basic term and covers a very broad spectrum. Meaning there are numerous ways of fishing the flats here in Florida and in the world. You have sight fishing, fly fishing, spin fishing, trolling, drift fishing, bait fishing, artificial tactics, chumming and so on. You can also apply some of these tactics when fishing along the coastal beaches as well. There are a few basic and main questions to ask a charter boat captain that will help you in your decision.
One of the most important questions is to ask them if they are licensed and insured. The United States Coast Guard requires a charter boat captain to be trained and licensed with them any time you have a "for hire" situation in any waters governed by the United States. This is where a form of payment is made to your guide. They also require you to be part of a drug testing program or consortium. They also have the guide or captain before issuing them a license take an extensive written test, have experience on the water that is documented and pass an FBI and Department of Homeland Security background check. Be trained in first aid and life saving techniques. Why? For the safety of you and the public. Not all Florida fishing guides are required to have insurance but the truly serious and professional ones will. This is a business and so it is treated like one. Also some of the areas you fish may require certain special permits issued by different bodies of government.
An example of this is the Mosquito Lagoon. It is located within the Merritt Island National Wildlife Refuge and the Canaveral National Seashore along side of NASA. The US Fish and Wildlife and the National Parks Service and Department of Interior requires every single professional fishing guide conducting business on their property to go through an extensive criminal background check (on top of the United States Coast Guards), to carry insurance with a certain liability limit, meet certain safety obligations above and beyond the norm and to basically abide by special terms and conditions with them.
Mosquito Lagoon Fishing guides and Indian River fishing guides on the refuge are issued what is called a "CUA" or Commercial Use Authorization permit valid for one year at a time and at the end of this period they must re-apply and go back through the process again. You can call the National Parks Service, Canaveral National Seashore and the US Fish and Wildlife office in Titusville Florida at 321-267-1110 and ask law enforcement if the Mosquito Lagoon fishing guide you are hiring meets the requirement to fish inside the refuge and the Canaveral National Seashore.
Ask your guide what style of fishing they specialize in or how they fish. If you are flats fishing shallow water for redfish or sight fishing for red drum a poling tower, push pole and front casting deck is a must. If they are just blind casting or drift fishing deeper ledges and open bodies of water then it is not. If you want to fish the backcountry waters then a poling tower is needed to get in and out of the shallow backcountry flats where a trolling motor will not work because it will scare the fish off and the water depth is too shallow for a trolling motor to be effective and productive. Along with that a trolling motor is very heavy and adds weight to the boat.
Or if they, your potential guide, offers fishing trips close the beach, which we call near shore fishing or coastal fishing charters. These are fishing trips that usually stay within a few miles of land. Running out of the inlets or bays and looking for species that hug the coast line up and down the beaches. This is a nice fishing trip to do when the weather is optimal out and the seas are calm. Here in east central Florida you can take most flats boats out and do this on nice spring and summer days, along with some days throughout the fall and winter. You have chances at catching shark, cobia, snook, mangrove snapper, flounder, pompano, jacks, sheephead, bull red drum, king fish, triple tail and of course Atlantic tarpon. This can be one of the most exciting and productive fishing trips of all time, along with great family fun for the advanced angler and the professional alike.
You have several guides who will offer a no fish no pay policy. Be very careful of this. It does seem to be very inviting at the time by thinking you will catch fish or not have to pay any thing. The way most of these policies are worked is they will have many exemptions or hidden agendas. Meaning that the no fish no pay policy for example can not be used if you are sight fishing, fly fishing, flats fishing, fishing for redfish, kids fishing, never saltwater fished before, sight fishing trout, tarpon fishing, back country fishing, using artificial lures and and so on. Another way that this is done is the guide will fish for you or fish for non game fish species of no sport fishing value, like getting bait. Ask your potential guide if he or she offers such a policy and what the exact details are. If you think about it, how can a guide offer something they really have no control over. They cannot force a fish to opens its mouth and eat.
Read the fishing guides web site. A truly professional and serious charter fishing guide will most likely have a high quality web site with very useful information on it. The web site will be updated with current information on it as well. It is just a common staple in the day and age we live in now. You may find all of the answers you are wondering about there. Find out what they fish for? Are they targeting red fish or seatrout? Are they tarpon fishing, fishing for sharks or snook fishing? How many anglers can go? Do they practice catch and release and so on? Pictures speak a thousand words. Check out the gallery section. Look at the pictures of the fish they are catching and see the boat they are using. See if the pictures look recent or are they from twenty years ago. Ask your guide what they provide for the days trip. Several will provide every thing that is needed for a high quality world class fishing trip and others will not or only supply some of the things needed.
Also on top of looking at pictures with the advancement of technology in the video era a lot of guides have videos to watch and look at. You can check out our videos on my YouTube Channel and get a real good feel for what the area is like and some of the interesting things and fish you will encounter while on your charter here.
One of the most important things to do is to be honest with the captain. Tell them what you want and what your expectations are or for that matter are not. Call them and pick there brain. Ask your fishing guide if they specialize in one particular body of water. Several guides fish many different bodies of water within a year bouncing from area to area and never really getting a good grasp on fishing patterns on a year round basis. Captain Drew Cavanaugh of Florida Inshore Fishing Charters specializes in sight fishing and back country flats fishing on the Mosquito Lagoon and Indian River 365 days a year and lives full time year round within two minutes of the Mosquito Lagoon in Oak Hill Florida. Along with this he also offers seasonal near shore saltwater fishing charters in the New Smyrna Beach and Cocoa Beach area along the coast targeting snook, tarpon, mangrove snapper, cobia, shark, pompano, triple tail and king fish. He has been a resident of Florida for almost 30 years now.
The best thing to do is to make a list of questions and write them down. Call your fishing guide and ask as many questions as you feel needed. They are there for you to make this the best fishing trip ever. The old saying "You never know until you ask" is so true. Tight lines and bent rods my friends.
Florida Inshore Fishing Charters
Captain Drew Cavanaugh • (352)223-7897 • [email protected]
Visit my YouTube Channel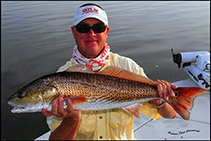 Captain Drew Cavanaugh
Orlando Fishing Guide • Cocoa Beach Fishing Charters