Mosquito Lagoon Drum • Ponce Inlet • Indian River • Atlantic Black Drum
The black drum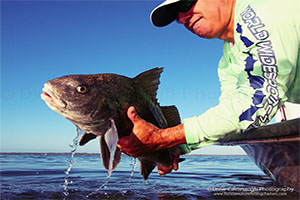 or also known as Atlantic black drum and by their scientific name, pogonias cromis are a species related to redfish, seatrout and whiting. They are part of the drum family. As with these species they are found throughout the state of Florida in coastal waters and in the inshore flats as well. The black drum we get here on the Mosquito Lagoon and Indian River tend to be in the size range of 5 to 15 pounds on average. However with that said there are numerous fish throughout the lagoon systems that are well over 25 plus pounds and even up to 40 plus pound class. The black drum out of Port Canaveral, Sebastian Inlet and Ponce Inlet can reach an outstanding size of well up into the 80 pound plus range.
Whether you are targeting these fish while fishing for the redfish or specifically asking to go for the black drum they will eat many different baits and flies. Some of the top lures to use would be a DOA Shrimp or a DOA Crab. A live hand picked shrimp on a 3/0 circle hook, perhaps with a small bullet weight added. A small hand picked "live" blue crab, rigged the same way is always a great choice. Then there are the flies. A black crab pattern, long worm pattern or even a shrimp pattern is your go to fly. Weight forward floating line, 7 or 8 weight fly rod.
Captain Drew Cavanaugh • (352)223-7897 • [email protected]
Visit my YouTube Channel and get an in depth look and feel of what to expect here on the great waters of Florida.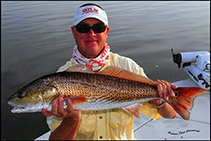 Orlando Florida Black Drum Fishing Guide Captain Drew Cavanaugh