Central Florida Light Tackle Saltwater Sport Fishing Seasons
Even though all of central Florida on a whole is a great place to fish year round there are certain times of the year that the fishing and weather is slightly different than others. Seasons for certain species, like redfish, spotted sea trout, flounder and black drum make these waters home all of the time and some species, like tarpon, shark and snook are seasonal migratory species that follow the warmer waters along the Atlantic Coast.
The million dollar question that is asked constantly to fishing guides here in east central Florida is; "When is the best time to go fishing?" Well an honest answer would be what type of weather do you like, what species are you wishing to target and when would you like to go. Other than this, central Florida has a year round sport fishery that is in a world class category.
Trophy saltwater flats fishing is available all year long. Florida itself is known as the fishing capital of the world and has many opportunities for all kinds of sport fishing. From offshore and near shore to inshore flats to freshwater bass fishing. However the Mosquito Lagoon, Indian River, Banana River and Ponce Inlet is known as the redfish capital of the world and has a strong population of redfish at any given time or season. Below is some seasonal fishing information for light tackle flats fishing near Orlando, Kissimmee, Cocoa Beach and New Smyrna Beach Florida on the Mosquito Lagoon, Ponce Inlet and the Indian River.
Winter • Indian River • Mosquito Lagoon Fishing
Winter fishing here on the Mosquito Lagoon, Banana River and the north Indian River can be outstanding. The backcountry waters turn crystal clear and at times the weather is just perfect out. Blue skies dominate the area along with air temps to die for. Water levels tend to drop off some limiting areas of access. With this the fish are at times easier to find with less water for them to roam in. The two main staple fish that are here year round are the redfish and Florida spotted seatrout. It is the only place where redfish will stay and live their entire life. A chance to catch the big bull red drum and slot size red fish at the same time.
During the winter months redfish will gather in massive schools and roam these grass flats in extremely shallow waters making for excellent sight fishing conditions. The fish are in pursuit of warmth and feeding frenzies ensue usually after a front passes. Large Florida gator seatrout are often seen roaming grass flats and sitting on sand holes in search of that ambush point. Fishing the Mosquito Lagoon and Indian River in the winter is by far a paradise for the saltwater fly fisherman. With the gin clear waters that are present and tailing red fish to cast to it allows for optimal sight fishing conditions to prevail.
However with a Florida winter comes cold fronts every so often. With this, a day here or there will become a bit breezy but with so much back country water to fish it is not an issue to find fish. Again after the fronts come by you see aggressive feeding patterns in the fish. Some of the main food during this time is crabs and shrimp. Again the weather is typically very nice out as well.
Spring • Orlando Florida Saltwater Flats Fishing • Spring Cobia
As the waters begin to warm up, more and more bait fish become present. The backcountry grass flats start to become full of life. An awakening seems to occur throughout the entire region. Mullet, pigfish, pinfish and other small baits start to show up in large numbers along with a few of the migratory species of fish such as lady fish, blue fish and jacks. Snook start to show up at Ponce Inlet and the Indian River in larger numbers as well as around docks, bridges and structures in the deeper waters.
The bigger bull channel bass or bull red drum along with the year round presence of slot size and over slot reds begin to present themselves more often. The redfish and seatrout begin to feed more and more on bait fish. Top water action becomes a great choice for fishing along with a well placed small blue crab and a shrimp fly pattern. Early sunrise bites bring plenty of action. Along with this is of course the presence of black drum which feed mostly on shrimp and crabs. The weather outside this time of year is also very nice and makes for comfortable days on the water. Trends of high 70's to low 80's with lows at night to the 50's and 60's with an occasional front comes by with great sun and perfect sight fishing conditions. Overall light tackle flats fishing this time of year is superb.
This is also the time of year we are able to begin our near shore beach fishing trips out in the Atlantic ocean. Fishing along the beaches as the waters begin to warm up we can target species like cobia, king mackerel or kingfish, sharks, mangrove snapper, flounder, jacks, grouper and triple tail.
Summer • Mosquito Lagoon • Atlantic Coastal Beaches • Indian River Lagoon Fishing • Tarpon
Summer on the Mosquito Lagoon and Indian River Lagoon system means non stop activity. Redfish, Florida spotted seatrout, IRL snook, Atlantic cobia and tarpon fishing is the prime choice here for inshore fishing. The waters come alive with bait fish and species that make the flats home here in the summer are out and about. The refuge alone is a paradise for several species of birds as well.
The beginning of summer brings smaller tarpon to the back country waters and giant trophy tarpon will start to show up in the Indian River, Port Canaveral and Ponce Inlet along the beaches as the water temperature rises. The Banana River in the Cocoa Beach area can be outstanding during this time period. The tarpon and snook fishing is at prime during these months on the Banana River in Cocoa Beach.
As the months pass and August gets closer bigger Atlantic tarpon will be in full force on the Mosquito Lagoon and the north Indian River in the Titusville and Cocoa Beach areas. The weather is hot out but the fishing is usually just as hot and on fire. You have so many opportunities to fish in so many different places it becomes a sensory overload. Dealing with an afternoon storm here and there that usually lasts less than an hour and allows you to almost fish twenty four hours a day. Night fishing for snook along lighted docks becomes outstanding and redfish are among grass flats feeding so aggressively that at times the fish look like dolphins making waves. Fly fishing and sight fishing is at a world class level. Smooth seas allow for near shore trips for cobia, triple tail, king fish, shark and tarpon.
Fall • East Central Florida Flats Fishing • Big Bull Redfish
Fall Central Florida Redfish brings the fall mullet run. Mullet begin to move south for the winter and tarpon, red fish, trout, snook and others begin a predatory charge on these bait fish. Water levels tend to rise a bit and the weather remains warm. However the air temperature remains very comfortable and fishing can be fun during the days. Tarpon will start to leave the area to head south after the first cold front hits and snook will stay around docks, bridges, canals and deeper waters of the Indian River and Ponce Inlet. Redfish of all sizes become feeding machines. As October approaches the reds begin to go into their breeding or spawning mode and move into the Indian Rivers deeper waters. They are at a most aggressive stage during these times. Florida spotted seatrout follow in a lion like pursuit after prey allowing for steady action all day long. Typically this time of year produces a medium weather feel as we transition to the winter months.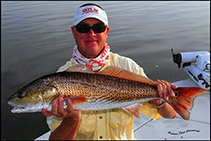 Orlando Florida Charter Flats Fishing Guide