Mosquito Lagoon • Indian River • Near Atlantic Beaches • Flats Fishing Boats
The backcountry waters of the Mosquito Lagoon, Port Canaveral, Ponce Inlet, Sebastian Inlet and Indian River here in east central Florida are very shallow, ranging from inches to a couple of feet in depth on average, so the boats we use all float, run and draft inches of waterline at a time when loaded. However with that said, my boat, at times can run along the beaches during calmer days as well in pursuit of tarpon, snook and cobia.
The flats boats that are used here are typically any where from 15 to 20 feet in length and weigh any where around a few hundred pounds each depending upon their construction and design up to 2500 pounds. The nearshore coastal charters are really where it can be fun and things change up, and still have a great day on the water. It is here where the Hewes Redfisher can handle the big tarpon, cobia and snook.
These skiffs are usually rated for a capacity of passengers from one to five people on board, however understand that one of those persons must be the captain at any given time. Florida Inshore Fishing Charters uses a fully equipped professionally designed Hewes Redfisher flats bay boat equipped to fish one or three or at special times four anglers at any given time, the third and fourth depends upon sizes of the anglers involved, such as small kids or small adults. This boat can easily give you more than enough room to move freely about the boat without feeling closed in. It is also fully able to make that 4 or 7 mile run out of the inlet and feel totally at home on the backcountry flats.
I understand that families and friends want to stay together and there is also a cost factor involved of booking another guide, but if you have several anglers consider booking multiple boats. Just because a boat has a capacity of carrying 4 or 6 persons does not mean you can fish this many people and enjoy the charter. Several guides will charge you the basic price for one angler and then an additional charge for each additional angler above that amount. These prices range from $50 to $250 for each extra angler on board. Depending on the quality of the guide or boat. So after these costs are factored in a second boat starts to become more of a choice for a better day on the water. Please call me with any questions you may have.
I look forward to seeing you out here for a great day of fishing.
Captain Drew's Cell • (352)223-7897 • email •
[email protected]
Mosquito Lagoon & Indian River Flats Fishing & Near Coastal Beach Fishing Trips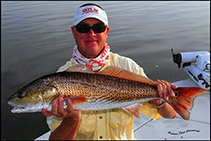 Mosquito Lagoon Charter Fishing Guide • Orlando Nearshore Tarpon Guide
Captain Drew Cavanaugh • Florida Inshore Fishing Charters Oak Hill, FL 32759