April 30th, 2017 • Light Tackle Central Florida Saltwater Fishing Report
With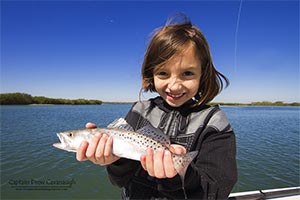 winter gone and spring here brings on some of the most outstanding fishing opportunities there is available in east central Florida. Now I must say with spring break coming and going this also brings in a lot of "different" types of fishing trips I do. The past few weeks has been great with families and people that are not into the "typical" sight fishing we do here on the Mosquito Lagoon and Indian River.
Now with that said let's talk about what has been going on in the flats on the lagoon's. Backcountry fishing for redfish, spotted seatrout and black drum has been outstanding as well. We are getting tailing redfish, giant schools of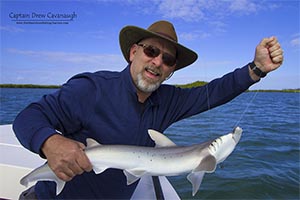 black drum and huge singles of spotted gator seatrout roaming the flats. The redfish have been tailing and feeding big time at first light. Using either a DOA Shrimp, or CAL and even a live shrimp along with the soft cast/presentation you should have some very good luck. Just make sure when you cast to them you do not crash down in the center or as always they will spook. Using a crab or shrimp pattern fly will get results as well.
Also please keep in mind that if you get to an area and you see a few boats there and it is a spot you wanted to fish, don't go in on other boats. Please. I would not do that to you, so do not do that to me or others. Not cool. The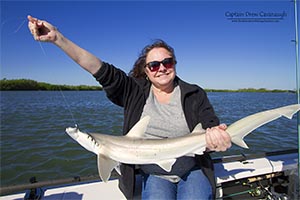 answer to that is to get there first. I have witnessed the past few weeks the poorest etiquette I have seen in years. It is a shame to see this going on, because it just leaves a bad taste in everyones mouth. Seems to be that everyone wants in on certain areas, however there is only so much room. Think of this as a concert and it is sold out. Go to the next show or go home. So use something each one of us was given, respect.
Now the black drum have been very spooky, as they always are. It does not help that I am seeing some people keep so many that they will soon be depleted. Watch for them moving in deeper waters. cast into the schools using a live shrimp or cut blue crab on a 3/0 circle hook and you should get some fun action.
Now the spotted seatrout have been mixed right along in with both the redfish and the black drum. So do not be surprised if you think you are casting to a red or drum and land a trout. Also the smaller schooling trout can be caught in good numbers using a CAL and a weight 1/8 oz jig head along the spoil islands and deep drop offs.
Now let's talk what a great area this can be for families here on vacation with either younger kids or even adults who just want to catch about anything in good numbers.
The north end of the Canaveral National Seashore all the way up through New Smyrna Beach to Ponce Inlet is awesome for these fishing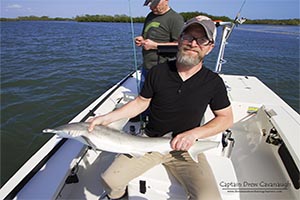 expeditions. On some days you get anything from shark to redfish.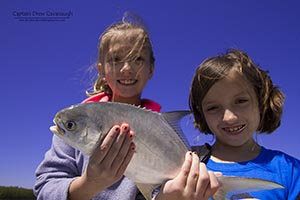 On others you get such a huge mixed bag of fish that you loose track of how many and what species you caught. Last few weeks we have done dozen of trips like this using a small 1/2 oz to 1 oz weight with heavy leader(for the sharks) and a small 1, 2 or 3 size hook. The fish range from whiting, shark, trout, snapper, pompano, redfish, drum, rays, sheephead, ladyfish, jacks and a few more.
Please feel free to call me with any questions you may have and also remember to practice catch and release on the Mosquito Lagoon and Indian River. Have a great spring!
As always use a soft tactical approach when targeting these beauties(trout) and as always practice catch and release with everything you catch on the flats. We all need to be doing this or this fishery will crumble and be a waste land if not.
It will not be much longer until we can start to do shad, largemouth bass and crappie fishing on the St. Johns River and Wekiva River. This is always fun and an alternative to the flats. Great action for all ages and experience levels. Please be sure if you are interested in a trip here to ask me about this. I want to wish every one a safe and happy holiday season!
Captain Drew's Cell • (352)223-7897 • email• [email protected]


Past Central Florida Fishing Reports
2006 to 2009 Archived • Ponce Inlet, Mosquito Lagoon, Port Canaveral, Indian River and Sebastian Inlet Fishing Reports
2010 to 2015 Archived • Port Canaveral, Indian River, Mosquito Lagoon, Sebastian Inlet and Ponce Inlet Fishing Reports
2016 to 2020 Archived • Sebastian Inlet, Port Canaveral, Indian River, Mosquito Lagoon and Ponce Inlet Fishing Reports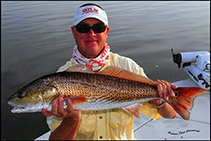 Orlando Flats Fishing Guide
Captain Drew Cavanaugh • Florida Inshore Fishing Charters Cocoa Beach • New Smyrna Beach • Daytona Beach