June 18th, 2017 • Light Tackle Central Florida Saltwater Fishing Report
The Mosquito Lagoon,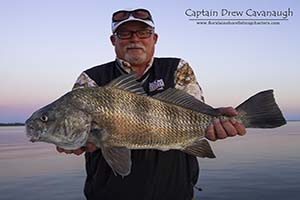 Indian River, Ponce Inlet and the backcountry waters here in east central Florida have been the main focus of flats fishing, nearshore and sight fishing charters. Great numbers of spotted seatrout, redfish and a ton of black drum have been caught daily in our flats. Mixed in have also been smaller tarpon, jacks, snappers, sheephead and a few lady fish too.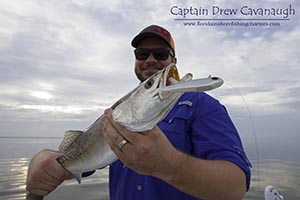 As summer begins to settle in the fishing will just get better. With the lack of rain central Florida has seen our waters have been fairly low right now. Access to a lot of areas has been limited to extremely shallow water boats or canoes and kayaks. With that said just because you have a boat that drafts 4 inches does not always mean there are fish in 4 inches of water. Most of the fish I have been catching have been in the 20 to 30 inch range.
During the early morning hours before first light and has the sun is coming up the trout bit has been on fire. if you are a big fan, like I am, top-water is the go to for that golden hour. There is nothing like the explosion of a trout or redfish hitting a top-water lure and watching the fight begin. The DOA Shallow Running Baitbuster is my choice most of the time, however a Skitter Walk or Spook will work just as well.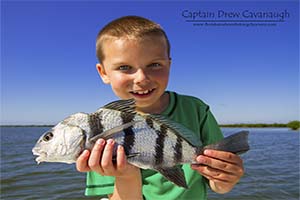 Plus you may want to keep a soft plastic rigged on a separate pole because during that first light hours you may also come across tailing redfish or black drum.
Now with that said let's talk about the black drum. Please, I am urging everyone who fishes the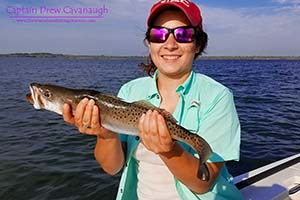 Mosquito Lagoon to please, please practice catch and release. This WILL be a very good thing for the future of our waters here. Unfortunately I have witnessed too many just "coolering" out on these fish. Why keep 10 of these of 15 or 20? Really?
So with that said, the drum have been so thick out here. As long as they are not chased by numerous boats and you have a soft approach, there is a high chance of getting a few in the boat as well. They are roaming the flats mixed in you will and should find plenty of redfish too.
Casting a shrimp on a circle hook will be your best bet to them. Just use a soft cast and landing. If you spook one the whole school will just lift up and run. So be sure your cast in accurate and precise.
Also this is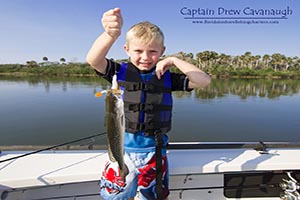 such a great place for kids and family trips. Do not think that you need to only be pushing the flats sight fishing redfish. Kids love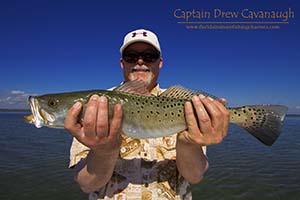 catching anything and as long as there is action, they are good to go here too.
The up coming months will bring great tarpon action on the way, inshore and nearshore. The beaches should be turning on fire any day now with calm waters to cruise them on. On my near coastal trips you can get shots at tarpon, big jacks, snook, blue fish, tuna, snappers, cobia, shark and so much more. So do ask me about these trips if you are interested.
Until then everyone have a great beginning of summer and stay safe out there.
Please feel free to call me with any questions you may have and also remember to practice catch and release on the Mosquito Lagoon and Indian River. Have a great spring!
Also Happy Fathers Day!
Captain Drew's Cell • (352)223-7897 • email• [email protected]


Past Central Florida Fishing Reports
2006 to 2009 Archived • Ponce Inlet, Mosquito Lagoon, Port Canaveral, Indian River and Sebastian Inlet Fishing Reports
2010 to 2015 Archived • Port Canaveral, Indian River, Mosquito Lagoon, Sebastian Inlet and Ponce Inlet Fishing Reports
2016 to 2020 Archived • Sebastian Inlet, Port Canaveral, Indian River, Mosquito Lagoon and Ponce Inlet Fishing Reports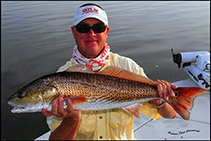 Orlando Saltwater Flats Fishing Guide
Captain Drew Cavanaugh • Florida Inshore Fishing Charters Cocoa Beach • New Smyrna Beach • Daytona Beach