December 4th, 2016 Central Florida Backcountry Flats Fishing Report
(ATTENTION: The Algae Bloom that has been seen on the national and local news is in FAR SOUTHERN FLORIDA, it is not near this area, no where even close to it. It is over a 105 miles away from the Mosquito Lagoon and the north Indian River Lagoon System here in New Smyrna Beach, Daytona Beach, Titusville and Cocoa Beach. The fishing here has not been effected by that bloom and is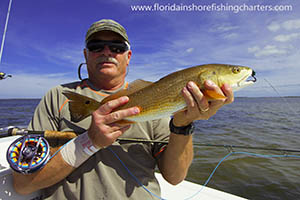 not even the same body of water! Call me or email me for details on this at 352-223-7897)
With winter just a few weeks away and our air temps are still in the mid 80's, this means instead of wearing long pants, you can still have shorts on! Now this is Florida. The fishing right now is outstanding to go along with the great weather. Over the next few days the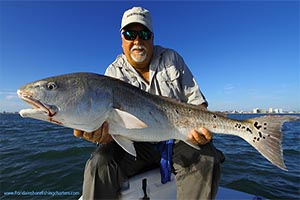 outlook is intense. We are scheduled to get a major cold front to come through in a week or so pushing air and water temps down to where they should be for this time of year. Even as I type this forecast and report, the air temperature has dropped by at least 8 degrees. So you ask yourself, what does this mean? It means BAM!!! Epic winter months of fishing here on the backcountry flats of the Mosquito Lagoon,Indian River and Ponce Inlet. This time of year offers some of the best there is for redfish, spotted seatrout and black drum.
Now with that said let's go over what has been going on here in east central Florida over the past three months on our waters. Flats fishing here really never slows down, it may have its typical rises and falls just like fishing any where else, but it never stops completely.
So on a side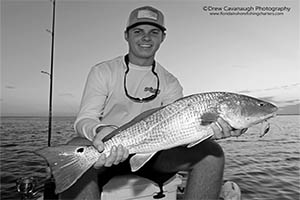 note,I like to tell people when they ask me what is the best time of year to go, well like to say this; "When do you want to go and what type of weather do you like?". Meaning, there is never a bad time of year to go fishing here in Florida.
The past several weeks has been great. With the exception back at the beginning of October we had Hurricane Matthew come through here. After it passed the water levels rose for several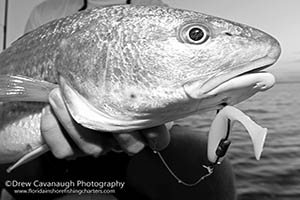 weeks and "was" very dirty. Both the water height and clarity has returned to optimal conditions. Even better, it is improving daily. I am hoping for a clear clean winter and spring.
Redfish have been roaming the grass flats strong. Watching at first light and as the morning time goes by looking for tails, feeding birds, bait fish. As usual any signs of life is the first rule of thumb when learning how to fish these flats or for that matter any flats. Using sight fishing methods, you can use either fly or spin. Light tackle is the best way to go here. I like, as always, when casting to feeding tailing fish, the DOA Shrimp, Nite Glow or a DOA CAL rigged on a weedless hook, with a 2500 series reel and on a St. Croix medium light to fast action. For those of you wanting to use live bait, you can get to these same areas and free line a mullet or use cut lady fish and put them in white holes also known as sand spots. Fly fisherman use the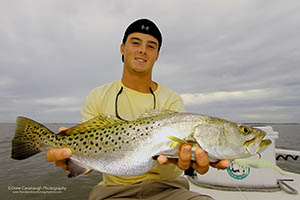 black crab fly, trust me it works.
If you want to as well at first light throw a DOA Shallow Running BaitBuster or Topwater for seatrout. As long as there is not a lot of grass floating around this is always an option for an hour or so. You may also get into redfish on the top bite too.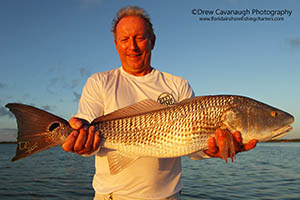 But the trout have been very thick mixed in with tailing redfish. I am even finding very large gator trout cruising the backcountry waters on their own, not with other fish. These fish are monsters!Also be on the watch for black drum when searching for any thing on the waters here. They too can be with the reds and trout. Use a live shrimp with them for best results.
As always use a soft tactical approach when targeting these beauties(trout) and as always practice catch and release with everything you catch on the flats. We all need to be doing this or this fishery will crumble and be a waste land if not.
It will not be much longer until we can start to do shad, largemouth bass and crappie fishing on the St. Johns River and Wekiva River. This is always fun and an alternative to the flats. Great action for all ages and experience levels. Please be sure if you are interested in a trip here to ask me about this. I want to wish every one a safe and happy holiday season!
Captain Drew's Cell • (352)223-7897 • email • [email protected]


Past Central Florida Fishing Reports
2006 to 2009 Archived • Ponce Inlet, Mosquito Lagoon, Port Canaveral, Indian River and Sebastian Inlet Fishing Reports
2010 to 2015 Archived • Port Canaveral, Indian River, Mosquito Lagoon, Sebastian Inlet and Ponce Inlet Fishing Reports
2016 to 2020 Archived • Sebastian Inlet, Port Canaveral, Indian River, Mosquito Lagoon and Ponce Inlet Fishing Reports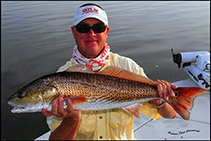 Orlando Flats Fishing Guide
Captain Drew Cavanaugh • Florida Inshore Fishing Charters Cocoa Beach • New Smyrna Beach • Daytona Beach