Mosquito Lagoon Redfish • Indian River Red Drum • Channel Bass • Bull Reds • Ponce Inlet Redfish
The redfish (Sciaenops ocellatus), also known as the channel bass, red drum, bull reds and bull redfish are an east central Florida game fish that is found in the coastal Atlantic waters from the northeast United States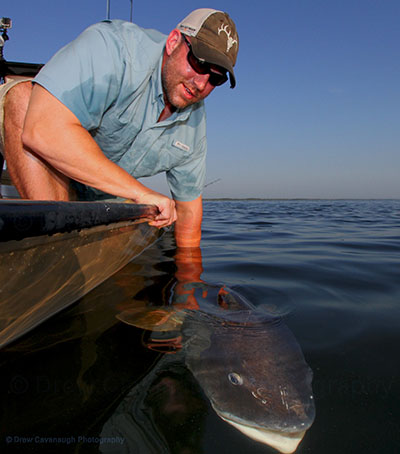 coast to Florida's inshore coast and in the Gulf of Mexico from Florida to the northern parts of Mexico. The redfish is a cousin to the black drum or drum (Pogonias cromis) and the two species are often found close to each other feeding, or just roaming the flats in each others company. It is the only species in the genus Sciaenops.
Red fish usually occur along coastal waters and are found throughout the entire Indian River Lagoon System including the Mosquito Lagoon, Ponce Inlet and its shallow backcountry grass flats. These fish are often found at times in less than 18 inches of water feeding aggressively and are known world wide for their extreme fights, long runs, powerful drag pulls and outstanding stamina. Especially on light tackle setups and fly fishing with an 7 or 8 weight rod. Mature red fish spawn near shorelines in the early to late fall, September threw October typically.
Juvenile redfish or rat reds typically inhabit bays and coastal marshes until they reach maturity between 3 and 6 years of age. Three year-old red fish typically weigh in at six to eight pounds on average. A typical central Florida "slot" size redfish will be in this range as well. The largest redfish on record weighed in at just over 94 pounds. When they get over 10 pounds they are generally called bull reds or bull redfish. They tend to be found in the deeper saltwater coastal waters offshore and near the coast.
However the Mosquito Lagoon is the only place where redfish will live their entire life without moving to deeper offshore waters. You can find them on the grass flats year round here. Making the Mosquito Lagoon and north Indian River a year round paradise for sight fishing them on the flats. This makes for world class light tackle sight fishing and saltwater fly fishing charters at any given time of the year. It is only here where in the same day you can sight fish the flats and catch a 5 pound redfish and then the next cast catch a 40 pound redfish. Earning it the title of the redfish capital of the world. This is by far the number place for anglers world wide to target these highly praised game fish.
Backcountry Flats Fishing • Ponce Inlet Nearshore • Indian River Flats Sight Fishing
Red drum are known to be one of the best inshore saltwater sport fish species on the planet. Often set side by side and compared to the famous bonefish. Redfish, like the bone fish, are famous for their fierce runs and their pit bull like attitudes. At times they feel like they will just pull your arms off and they seem to not want to give up. Add in there larger size to the equation and you have a recipe for trophy class saltwater fishing. Of course one of the most outstanding features is how they get there name; "drum". They put out a beating or croaking sound at certain times, usually when spooked or it is to be believed when mating as well, which in turn sounds like a drum.
Light tackle fly fishing and sight fishing is among the top choices to pursue these dominant fish of the flats and in the back country waters of both the Mosquito Lagoon and the northern Indian River Lagoon system. Feeding on a variety of bait fish, crabs and shrimp makes for an exceptional day of flats fishing for them with a variety of light tackle options.
Captain Drew Cavanaugh • (352)223-7897 • [email protected]
Visit my YouTube Channel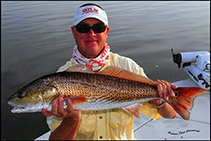 Central Florida Redfish Guide Captain Drew Cavanaugh