Ponce Inlet • Port Canaveral • Mosquito Lagoon • Indian River • Banana River • Tarpon
The tarpon,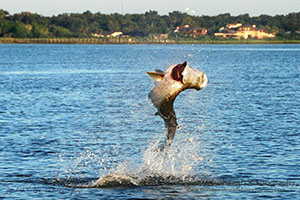 Atlantic tarpon or also called the silver king are one of the number one targeted sport fish on the earth. These fish are some of the best fighting fish anglers have come across with using light tackle. Central Florida offers a wide selection of two different tarpon fishing charters in the area. We target big tarpon here throughout the warmer months and in the spring through the fall along the beaches, just outside the inlets. The backcountry tarpon fishing is done on the lagoon systems year round on the flats.
Typically April through October, with June, July, August and September being prime time for beach tarpon. However the smaller tarpon can be found throughout the area year round in the backcountry waters of the Indian River, Banana River, Sebastian Inlet and the Mosquito Lagoon. These fish range around 5 to 20 pounds, which are perfect for light tackle applications of both spin and fly. Along the beaches on the nearshore fishing trips is where you will find the 100 plus pound tarpon. These begin showing up in April and is in full force all summer long.
Please contact me for details on booking a tarpon charter on the Mosquito Lagoon, Ponce Inlet, Port Canaveral, Banana River, Sebastian Inlet or Indian River. I would be happy to explain to you the different areas and choices you have and which charter might best fit your needs.
Captain Drew Cavanaugh • (352)223-7897 • [email protected]
Visit my YouTube Channel and get an in depth look and feel of what to expect here on the great waters of Florida.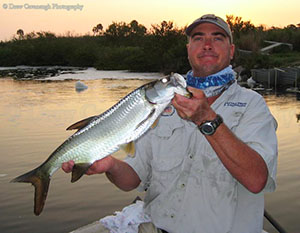 Central Florida Backcountry Tarpon Fishing Guide Captain Drew Cavanaugh