Nearshore & Flats Fishing Charters Deposit INFO
Use the PayPal Button bellow here to place your deposit with me and agree to the terms and conditions of your charter. Also please send me an email at [email protected] with your trip details, name, dates, length of charter you want, number of people going and a good cell number. There is a 5% convenience fee assessed for this transaction.
Terms and Conditions • Refund Policy • Copy Right Info • Cancellation Policy
Most of the boat ramps we use charge a parking fee that ranges from $2.00 to $20.00 so please be sure to have some spare cash with you for this. There is an additional charge of $100 for each extra angler over 2 persons going on the charter, whether they are fishing or not. So also pack light if you can. I will have a YETI cooler on board.
All rain checks, gift certificates, fully paid charters in advance, multi-boat trips(more than one boat booked) and deposits must be used within 370 days of the original charter date booked unless other arrangements have been made with Captain Drew Cavanaugh. After this time frame all funds on file will be forfeited. I can be contacted year round to reschedule all dates. my cell is 352-223-7897

Once the boat is launched and I am in the water at the dock we meet, ALL "NO calls", early finishes or no shows will forfeit the days full charter amount on file. This is due to the vast amount of detail and preparation involved on being on the water, launching the boat, securing bait, fuel, time involved, travel time involved, cleaning the boat afterwards and other necessities for the days charter. I will wait no more than 35 minutes after our agreed starting time before leaving and going home. So be sure to call me if you have any problems.
If you slip or fall you also agree not to hold me responsible for any damages/loss to "you or your guests or your equipment you MAY incur". Remember BOATS move around and we are on water that is always moving and is WET.
All photos and videos are the property of © Drew Cavanaugh Photography and can be used by his permission only. I will email you basic small resolution copies I take of your catch for your own personal use at no additional cost. However I also do offer online at my photography website, http://www.drewcavanaughphotography.com/ an option for you to purchase a high end edited printed framed and/or digital download version of your catches for you to hang or display. These options can be seen at the website above and I can give you a password to view them after they have been processed and edited. Please ask me about these options
A seven (7) day notice is required to cancel the ORIGINAL CHARTER date for a full refund on your behalf. "No refunds at all after we have rescheduled the charter to another date from the original date booked". All cancellations need to be done either in person, telephone conversation or email confirmation, prior to launching the boat, in order to try and make other arrangements. Please allow up to 60(sixty) days for refunds that are due, this allows credit cards to be processed, or checks to be mailed. Refunds are processed on the day of cancellation. Captain Drew Cavanaugh has final discretion to make any and all refunds or may refuse any refunds for any reason.
If the original charter date you book with Captain Drew needs to be canceled due to bad/dangerous weather conditions or unforeseen conditions "at all", deemed by the captain(If I am sick or have mechanical issues for example), then a full refund can be made if it is not possible to do the charter at a later date in the form of a rain check.(*Meaning if you/we/me cannot do the charter at a later date or do not want too do it. However once you/me both agree to move the charter to another date in the future, the monies you have down or paid are used "ONLY" for this unless once again bad weather happens or I cancel on you for unforeseen reasons - Sick or mechanical issues, etc. The reason for this is, too many people agree to reschedule, ask to reschedule again and sometimes reschedule several times over, then deciding to cancel overall at the last minute, after agreeing to do the trip at a later date. After I have put in time to adjust my schedule to get this charter in for you many times. So once we BOTH agree on canceling the ORIGINAL charter to do the trip in the future, this deposit or payment I have on file from you is "USED ONLY FOR THAT" or you are welcome to have someone else use it in your place, again unless bad weather happens on the rescheduled date or I have reasons to cancel on you.*)
Again, Once another date "is agreed upon for rescheduling by both parties" then all monies(deposits and payments) will be held for a rain check use only, at a later date. PLEASE BE SURE TO ASK ME ABOUT THIS. I am very very flexible on scheduling and getting you out there in the best situations to have you get the best trip you can.
If you have any medical conditions or are the type of person who has balance issues then remember that boats move around, at at times it can be rough out. So make sure you are prepared for the water and weather conditions.
By paying this invoice for a deposit or booking and going on the charter, you agree to all of these stipulations above and below here, and in the terms and conditions listed within. Also by paying this invoice you agree not to hold Captain Drew Cavanaugh or his business, Florida Inshore Fishing Charters, liable or responsible for any damages or injuries to you, your guests, your tackle or electronics that you bring. You agree not to bring any legal actions against him, his business or his company.
I can put your electronics in a dry box when you get on board and I do not suggest you keep them in your pockets. It is better to be safe than to be sorry.
*NO REFUNDS* AT ALL ON ALL MULTI-BOAT ARRANGED CHARTERS. NONE AT ALL, NEVER. Reschedule only if canceled for any reason, including weather or mechanical issues. All multiple(more than one guide/captains/boats booked) boat charter deposits are held for a rain check only if cancellation is required for any reason(s) at all, if the charter can not be done on the date originally booked. This is due to that there are other captains/boats involved and their policies may differ from ours, along with schedules and certain factors that may be unforeseen. So to ensure that the trip will occur we only do a rain check for this, at some future date over the next 370 days. Unless "WE" have made other arrangements for this, so please be sure to ask me about this policy.

Thank You
Capt. Drew Cavanaugh
Captain Drew's Cell: (352)223-7897 • email
[email protected]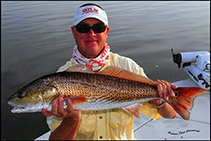 Orlando Florida Charter Flats Fishing Guide
Captain Drew Cavanaugh • Florida Inshore Fishing Charters • Oak Hill, FL 32759