Central Florida Saltwater Flats Fishing Charter • Rates & Info
Florida Inshore Fishing Charters offers a wide selection of light tackle saltwater flats fishing trips on the Mosquito Lagoon backcountry, Ponce Inlet, Sebastian Inlet, Port Canaveral, Banana River and Indian River for redfish, sea trout, black drum, snook and tarpon year round. Including both spin fishing and fly fishing trips for all ages, families and experience levels. Also offering seasonal near coastal fishing trips and tarpon fishing trips along east central Florida's Atlantic beaches for cobia, tarpon, shark, triple tail along with bass, shad and crappie fishing trips.
Captain Drew Cavanaugh • 352-223-7897 • email me at • [email protected]
Mosquito Lagoon • Indian River • Flats Fishing Rates
2 Plus Hours • Mini 1/4 Day $199
4 Plus Hours • 1/2 Day $350
6 Plus Hours • 3/4 Day $450
8 Plus Hours • Full Day $650
SPECIAL: Winter & Spring Extreme Trip • Sunrise to Sunset • Lunch Included • Absolute Best Time During Our Great Winter Months • $750
All Rates above are for One or Two Anglers • An extra fee is added for a Third or Fourth Angler or Passenger • Conditions apply, please ask for details when you have more than two going

Use the PayPal "Buy Now" Button below to go to the page to place your deposit down today or email me for details. You DO NOT need a PayPal account to use this feature, just a valid credit card, debit or bank account. It is easy, safe and secures your date immediately with no delay. There is a 5% convenience fee assessed for this transaction. Also please send me an email message to let me know the date you want the deposit to be applied towards. A ten (10) day notice is required to cancel the ORIGINAL CHARTER date for a full refund on your behalf. All cancellations need to be done either in person, telephone conversation or email confirmation, prior to launching the boat, in order to try and make other arrangements.

Sebastian Inlet Backcountry • Snook • Backcountry Tarpon • Rates

4 Plus Hours • 1/2 Day $375 • May - October
5 Plus Hours • 3/4 Day $475 • May - October
All Rates above are for One or Two Anglers/an extra fee is added for a Third Angler/Passenger
Please call me for Atlantic coastal beach fishing information and seasons.
Private Kayak/Canoe Charters on the Mosquito Lagoon in Oak Hill Eldora area • I have private access to these waters • Please call or email for pricing and information
St. Johns River Largemouth Bass • Shad • Crappie Charters • Big Beach Tarpon Fishing • Nearshore Charter Info
Indian River, Atlantic Beach and Big Tarpon Charters
Port Canaveral & Ponce Inlet Nearshore Seasonal Fishing Charters
Wekiva River Panfish Crappie, St. Johns Shad and Largemouth Bass Fishing Rates and Information
All licenses and light tackle are provided at NO additional cost. The prices are for the boat and not per person. Up to four anglers can be accommodated at certain times.
Information and what is included for all guided trips with Florida Inshore Fishing Charters
All required state and federal fishing licenses and permits. USCG licensed and insured.
Federal 2016 CUA permit issue #1 to fish the Mosquito Lagoon, Indian River, Merritt Island National Wildlife Refuge and the Canaveral National Seashore.
Yeti Cooler with ice and fresh new bottled water.
Digital HD pictures and HD video of your catch and events of the day at NO additional cost. You are welcome to bring along your own camera too.
Please visit my "Drew Cavanaugh Photography" page to view, purchase and inquire about getting upgraded professionally edited photos and videos of your trip and other pictures I have for sale or for download. I offer wildlife, landscape, portrait and much more to see.
Years of experience, knowledge and a great professional attitude. Year round Oak Hill & Titusville resident.
2016 Snook Stamp.
High quality professional line of saltwater fishing tackle.
Live bait when needed or requested at NO additional charge.
Custom built 2016 Hewes Redfisher light tackle flats fishing boat designed for backcountry and nearshore beach fishing trips.
Kids and family welcome. No experience needed, however I highly recommend that you watch some of my YouTube videos so you can see what the fishing is like here.
Prices includes one or two anglers. A third or fourth angler/passenger can be added for an additional charge of $100 each extra person going. Please call for details.
You will want to bring sunscreen, rain gear and a good pair of polarized sunglasses with copper, vermilion or amber colored lens.
A $100 deposit is required to reserve/secure and hold the day/boat for each fishing charter trip booked with Florida Inshore Fishing Charters. Please click here for deposit information, cancellation policy and trip details.
Please Read Important Information About Mosquito Lagoon Fishing Guides
Florida Inshore Fishing Charters & Captain Drew Cavanaugh holds a current valid federal 2017 CUA Permit, (Commercial Use Authorization) with the U.S. Fish and Wildlife Service/Department of Interior/Canaveral National Seashore/National Parks Service. Valid through 10-31-2017 to operate as a recreational sport fishing guide and charter boat for hire captain on the Mosquito Lagoon, Indian River, Canaveral National Seashore, No Motor Zone and the Merritt Island National Wildlife Refuge.
All fishing guides on these waters are required by federal law to have this.
All charters inside the national park and wildlife refuge boundaries are catch and release sport fishing only. This is a 100% zero possession area. Fishing outside of these federal waters at times allows for some species to be harvested, please ask for details about this.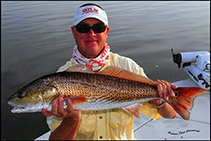 Orlando Florida Charter Flats Fishing Guide:
Captain Drew Cavanaugh & Florida Inshore Fishing Charters • Oak Hill, FL 32759