Orlando Light Tackle Saltwater Flats Fishing Charter
Thank you for visiting my site. As you look through the pages you will notice some very drastic changes in style, look and design, for the better. I am in the process of redeveloping this site with a new look and feel. As I like to say I am bringing it into the look and feel of the 21st century, using responsive layout. Thanks for all of the great input! Please check back periodically for as each day goes by, changes will occur.
Welcome to Florida Inshore Fishing Charters with Mosquito Lagoon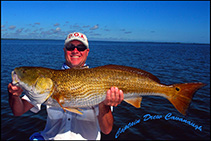 fishing guide, Indian River fishing guide and Orlando saltwater fishing guide, Captain Drew Cavanaugh. A light tackle flats fishing charter located east of Orlando, Kissimmee & Disney World in the Daytona Beach, Cocoa Beach, New Smyrna Beach and Titusville areas.
Inshore sight fishing, backcountry fishing, spin fishing and fly fishing charters in central Florida for redfish, tarpon, snook, seatrout and black drum along with the seasonal near shore coastal fishing trips for shark, grouper, snapper and cobia.
All ages and experience levels are welcomed. All licenses and tackle are provided. Visit my Charter Info rates page for specials and booking info. You can reach me at (352)223-7897 on my cell phone or email me at: [email protected] or our Email Contact Page and I will be glad to assist you.
I would like to invite you to fish the world famous Mosquito Lagoon, Ponce Inlet and north Indian River Lagoon located in the Merritt Island Wildlife Refuge, Canaveral National Seashore and the nearshore Atlantic beaches here in east central Florida. Specializing in light tackle saltwater fishing charters on a year round basis. Enjoy the closest and best saltwater fishing near Orlando, Kissimmee & Disney.
The Mosquito Lagoon and Indian River are the number one place to catch trophy redfish (red drum, bull redfish or channel bass), spotted seatrout (speckled sea trout or gator trout) and Atlantic black drum year round here in central Florida. Along with the seasonal nearshore Ponce Inlet and Port Canaveral fishing charters.
All of my inshore guided fishing charters are done out of a fully equipped, clean Ranger Banshee Extreme flats boat. Outfitted with professional grade saltwater fly fishing and light tackle spinning gear. Providing custom hand tied saltwater flies, D.O.A. Fishing Lures and fresh live bait. Fishing this unaltered estuary among the shallow back country grass flats allows you to make casts at fish you are able to see and stalk.
Whether you want to sight fish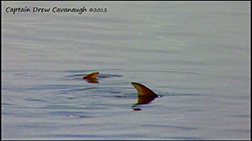 tailing redfish, schools of black drum or gator seatrout on the flats of the Mosquito Lagoon. See the explosion of tarpon hitting bait pods as they roll in the morning coastal surf. Casting to IRL snook under lighted night docks. Throwing to cobia underneath rays. Or perhaps would just like to see the marvels this wildlife refuge and national park has to offer, then this is the fishing charter for you.
The Mosquito Lagoon and Indian River are like no other inshore saltwater sport fishing charter destinations. Numerous world records have been established here on light tackle using spinning gear and fly fishing tackle throughout all of the lagoon systems. Targeting giant bull redfish that roam these waters year round. Mosquito Lagoon red drum in excess of the 30 plus pound class! Saltwater trophy sport fishing at its best. Earning it the title of the redfish capital of the world.
With over 27 years of fishing these flats and running Florida Inshore Fishing Charters full time, I strive to be a world class light tackle saltwater fishing guide here in central Florida. As your Orlando fishing guide I will work very hard to ensure you have the best guided fishing charter possible. So if you are visiting Orlando, Disney World, New Smyrna Beach, Cocoa Beach, Daytona Beach and want to experience central Florida's saltwater fishing at its prime then this is a definite to put on your "things to do list".
Florida Inshore Fishing Charters hopes that you keep in mind, "Fishing is not a matter of life and death, it is way more important than that!" So call me today and come fish the Mosquito Lagoon, Ponce Inlet and north Indian River Lagoon like never seen before.
Tight Lines & Bent Rods!
Captain Drew Cavanaugh
(352)223-7897
Email: [email protected]