Mosquito Lagoon and Indian River New Smyrna Beach & Cocoa Beach



Florida Inshore Fishing Charters is centrally located 45 minutes east of Orlando Florida and the area attractions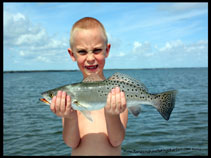 of Walt Disney World, Sea World, Universal Studios and Kissimmee. Running between Daytona Beach to the north and Cocoa Beach to the south. New Smyrna Beach and Titusville in the center. The Atlantic Ocean just to the east. The shallow back country flats of the Mosquito Lagoon and Indian River Lagoon are known as the redfish or channel bass capital of the world! There is no other place on the planet to catch redfish, seatrout, IRL snook or Florida tarpon with the conditions that exists on the Mosquito Lagoon and Indian River Lagoon. A sight fishing paradise with light tackle on a private professionally guided saltwater flats fishing trip. Whether you are fly fishing or spin fishing this is the place to be for inshore backcountry saltwater flats fishing.
Fish the world famous Mosquito Lagoon and the Indian River with your full time charter sight fishing guide and local year round full time resident of Oak Hill, Florida. The Mosquito Lagoon is located in the Canaveral National Seashore which is part of the Merritt Island National Wildlife Refuge along the heart of Florida's Space Coast. The 140,000 acre refuge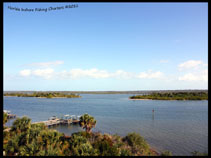 shares this beautiful piece of nature with NASA's Kennedy Space Center. The refuge serves as a habitat for over 500 species of wildlife along with scenery that will blow your mind away. This includes 21 federal and state listed endangered and threatened species, more than any other National Wildlife Refuge.
The wildlife will range from many different birds including the scrub jay, spoonbills, snowy egrets, herons, bald eagles, red-tailed hawks, terns, pintails and the osprey among over 23 migratory waterfowl species making the refuge a winter home including the blue wing teal along with many more. Other extraordinary animals include alligators, manatees, dolphins, sea turtles, wild pigs, deer, tropical plants, trees, along with the game fish and tropical fish. The wildlife alone is worth the trip to this paradise of the sunshine state. A place where history has been made and where time remains frozen still.
Established in 1963 by NASA, the refuge has become a sight to see and take in. Over more than half of it consists of brackish back country estuaries and salt marshes that are an essential part of life for the red fish(channel bass, red drum, bull redfish or sciaenops ocellatus) and the Florida spotted seatrout ( gator trout / cynoscion nebulosus) along with several other species of fish including IRL snook, Atlantic tarpon, flounder, Atlantic black drum, jack crevalle, ladyfish, sheephead, mangrove snapper, small shark and many more. These fish make the warm, grass lined flats their home for feeding frenzies and many use it as a breeding ground as well. It is an area like no other on the planet. Over 250 species of birds alone exist here.
The Mosquito Lagoon portion of the refuge is roughly 21,000 acres with about half of this in the depth range of three feet or less. This makes the refuge an exceptional area to sight fish, fly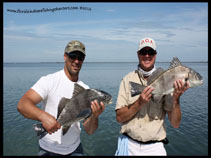 fish and stalk redfish on light tackle. The pinnacle of inshore saltwater flats fishing. At times these fish can bunch up in large schools ranging in weight from 5-40 plus pounds. Sometimes these schools can be in the hundreds. Throughout the year GIANT BULL REDFISH roam the flats and in the fall make this area a breeding ground for them. Some of these fish reach in excess of 40 plus pounds in the back country waters. This makes for great sight fishing and lots of excitement on light tackle.
Fly fishing the Mosquito Lagoon for red fish alone is a world class experience. Mixed in there you will find large gator seatrout, these fish range in the 8-15 pound. range reaching lengths in excess of 30 plus inches at times. It is not uncommon to even see and catch trout reaching 15-17 pounds in the Indian River Lagoon system. Summer time months bring on spectacular Florida Atlantic tarpon and IRL snook fishing as they move into the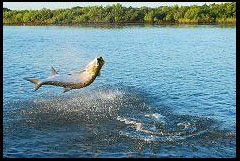 warm inshore waters to feed on bait fish. In the cooler months the redfish move onto the warming back country grass flats throughout the day to seek out bait fish, warmth and food sources.
The waters at this time of year are extremely clear with the lack of rain water to disrupt the clarity making it possible to spot these fish at a far distance. It is by far the only place to catch these fish on a year round basis. It is the closest saltwater fishing in Orlando Florida. Offshore or inshore. The Mosquito Lagoon and Indian River Lagoon, with numerous world records on file, is billed as the "Redfish Capital of the World." This is the apex of inshore back country flats fishing and fly fishing on the planet. To the east of this area lies Canaveral National Seashore in the New Smyrna Beach area and just to the southwest lies the the Indian River in the Titusville area.
The Indian River Lagoon system is part of the longest barrier island complex in the United States. Saltwater fishing is minutes from central Florida cities such as Cocoa Beach, Port Canaveral, Daytona Beach, Orlando, New Smyrna Beach, Ormond Beach and Walt Disney World. Making this the premier fishing destination in the world along with a great location for a family vacation. The Mosquito Lagoon is part of this system which it occupies more than 30 percent of Florida's east coast and spans a massive 156 miles from Ponce de Leon Inlet in the Mosquito Lagoon area to Jupiter Inlet to the south. The most unique and defining feature of this system is its location. This puts it in a class of its own. Its unique geographical setting straddles a transition zone between colder temperate and warmer sub tropical biological provinces. It is perhaps here and nowhere else in the United States that tropical and temperate species coexist and thrive. World class light tackle sport fishing at its very best!
Canaveral National Seashore is one of the most beautiful National Parks in America. Here you will find no buildings, no structures, no seawalls, no homes and no businesses. Made up of barrier islands, mangrove shorelines, twisting creeks, miles of pristine beaches, thousands of wildlife species and thousands of acres of grass flats and saltwater sport fishing grounds. This is a destination to be seen and experienced year after year after year. It is set aside as if frozen in time, yet there is always something new to discover. No where else will you find these conditions year round to pursue trophy red drum, Florida channel bass, spotted sea trout, IRL snook and juvenile tarpon. Come and visit today for the inshore flats fishing experience of a lifetime.
Captain Drew Cavanaugh: 352- 223-7897 or Click here to email us