Orlando Light Tackle Saltwater Fly Fishing Charter
Fly fishing the Mosquito Lagoon, Ponce Inlet and the Indian River is by far the best inshore saltwater fly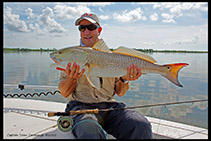 fishing near central Florida there is to find.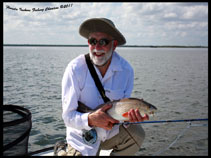 The fly fishing here is a year round event here and the best time of year to go and do this boils down to the weather or climate you like to enjoy. Hot or cool. This is central Florida and there is no place better to plan a saltwater fly fishing vacation for the either yourself or the entire family.
The weather in central Florida is superb year round and allows the fishing to be at its very best all year long. Summer time brings on many migratory species of fish which opens up the chance to do near shore fishing charters along either the New Smyrna Beach area out of Ponce Inlet or Port Canaveral in the Cocoa Beach area. With calm seas at this time of year, you have shots at species such as Atlantic tarpon, jacks, cobia, shark, triple tail, king fish, lady fish and IRL snook. Along with these species all year long are always redfish, Atlantic black drum and the elusive Florida gator seatrout roaming the back country grass flats and the near coastal waters. A hook up on any of these fish at any time of year will by no doubt get your heart racing and leave you with memories of a lifetime.
However fly fishermen from all around the world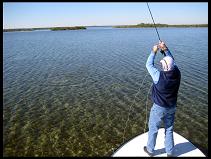 will agree that the winter time saltwater flats fishing here is by far the pinnacle for Mosquito Lagoon redfish on the fly.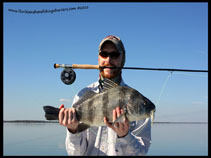 The reason is the water of the Mosquito Lagoon and the Indian River in the winter months become gin clear due to the lack of rain water runoff and water temperatures are lower. The water also is lower in depth in the winter and spring months as well. Allowing for sight fishing of channel bass, Florida black drum and spotted sea trout on the grass flats to be just outstanding.
Along with having crystal clear water the fish also tend to bunch up in massive schools and roam the flats as if they are taking over the world. Spotting fish from long distances allows the angler an in depth tactical approach along with a perfect presentation of the cast. Incorporate the feel, sight and involvement of the catch. A must see experience to appreciate.
Tackle selection used for fly fishing the Mosquito Lagoon varies from a 5 weight to a 10 weight fly r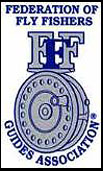 od. The basic formula on which class weight to use is based on the winds, weather conditions, anglers skill level, area you are fishing and so on. Most fly fishing is done on the flats here for redfish or spotted seatrout with a 7, 8 or 9 wt. fly rod and reel. The reels you decide to pair the rod with should have a quality drag system, around 150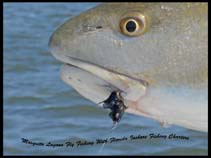 yards of backing and definitely designed for saltwater conditions due to the corrosion factor that accompanies saltwater flats fishing.
Reels need to be lined with a weight forward floating line always when fishing the flats due to the shallow circumstances and conditions here. Sinking line will just get down into the grass flats too quickly and cause hang ups. You have to remember most redfish on the grass flats here on the Mosquito Lagoon and Indian River are caught in 14 to 32 inches of water. Around six feet of fluorocarbon leader ending at a 12 to 20 bite tippet is by far the best choice.
Fly selection can actually be fairly easy for targeting red fish. They are not picky eaters by any means. The redfish diet is mainly crabs, small bait fish and shrimp along with worms and other baits. It is all in the presentation to entice the strike. The one thing to remember with redfish is they are lazy feeders. A close yet soft presentation of the fly is an absolute must. You do not want to land on the fish as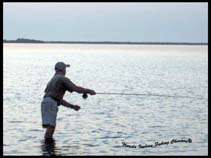 to scare them off, however you also want to get it close enough to them to entice them to eat it.
The most common size of a fly is around a #4 or #3 size. Throwing a sinking or floating fly pattern will depend upon what the red drum, sea trout, black drum are eating and surrounding water conditions. Often the best flies are bendback. This is due to they are able to present a soft presentation when landing and tend to pull less grass in the shallow backcountry waters here. In other words if you know they are chasing bait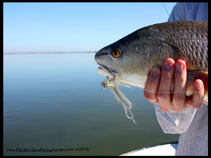 fish use a mullet pattern or bait fish pattern. If they are feeding on crabs or shrimp a sinking crab pattern or shrimp pattern will be your best choice. Color choice can be worked with as well. Again either baits will most likely work it will basically boils down to the approach you get on them. A few basic flies are Seaducer's, Sliders, the Bendback Fly and of course Clouser's.
If you are looking for a fly fishing and sight fishing experience on inshore saltwater grass flats here in central Florida on back country waters that will leave you breathless, then fishing on the Mosquito Lagoon and Indian River is the trip for you. There is no other destinations on the planet to accomplish this. The Mosquito Lagoon is known as the redfish capital of the world and holds numerous world records for fly. A world class fly fishing charter to remember for a lifetime.
Captain Drew Cavanaugh Orlando Saltwater Fly Fishing Guide
Fly fishing guide on the Mosquito Lagoon
World class saltwater fly fishing for redfish, spotted seatrout, IRL snook and Atlantic tarpon
Visit us at: Indian River Lagoon Fly Fishing Charters Cocoa Beach
Inshore and near shore Saltwater fly fishing near Daytona Beach, New Smyrna Beach and Cocoa Beach