Cocoa Beach Light Tackle Flats Fishing Charter
Cocoa Beach is a city in Brevard County Florida. Located just south of Daytona Beach, east of Orlando, north of Sebastian Inlet. It is also very close to Port Canaveral and the cruise lines. According to the U.S. Census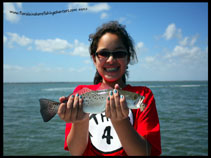 estimates of 2010, the city has a population of roughly 11,231. It is approximately 1 hour from central Florida's theme parks.

The first established settlement in Cocoa Beach was started by a family of freed slaves after the Civil War. Then, in 1888, a group of Cocoa men bought the entire lot of land.  The City of Cocoa Beach was established on June 5, 1925, and was incorporated as a City on June 29, 1957.

Cocoa Beach was put on the map during the 1960's due to the United States space program and the space age. NASA's Kennedy Space Center is located approximately 14 miles north of the area, to the south is Patrick Air Force Base and the 45th Space Wing. The city of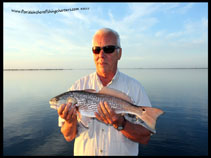 Cocoa Beach became home to many young families where either one or both mother and father worked on some angle of the space program. Even to this day there are numerous people living in the area that have contributed to the history of the space program.

One of the major things the city is also famous for is that Cocoa Beach was the setting for the 1960's TV show "I Dream of Jeannie". Along with this it is also a place for spring break, local beach goers, family vacations and holidays along with surfing. Of course one of the major attractions is of course the saltwater sport fishing.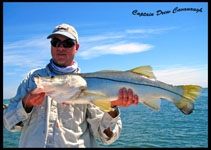 Including sight fishing the flats of the Mosquito Lagoon and Indian River for giant redfish, trout, black drum or deep sea fishing and near shore fishing out of Port Canaveral for cobia, tarpon, triple tail, snapper, kingfish, grouper, shark and snook. Cocoa Beach fishing is a year round event as is all of Florida.
Florida Inshore Fishing Charters is located minutes north of the famous city. Here you will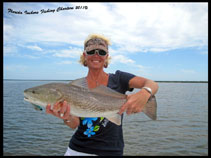 find the Mosquito Lagoon, Canaveral National Seashore, Merritt Island National Wildlife Refuge and the north Indian River Lagoon System. It is here, on the Mosquito Lagoon and Indian River, where the redfish capital of the world is located. There is no other place on earth to catch redfish and bull red drum year round. These fish reach in excess of 40 plus pounds at times. Making for light tackle fishing an extreme, the apex of inshore saltwater flats fishing. It is among the top fishing destination on the planet if not the number one place to fish for world record reds. Saltwater fly fishing or spin fishing tactics.
Captain Drew Cavanaugh also possesses a valid CUA permit, which is required by federal law to fish the Refuge and National Park waters which includes the Mosquito Lagoon area. There is only a small limited number of guides who are on this list, which can be viewed at the Canaveral National Seashores web site under permits. Along with this he also holds all necessary local, state licenses and insurance.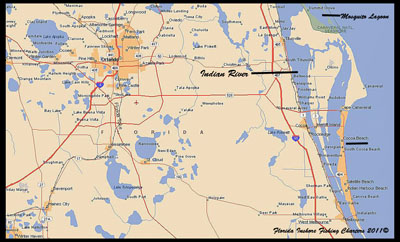 Captain Drew Cavanaugh is a full time Cocoa Beach Florida saltwater fishing guide. Flats fishing for redfish, Florida tarpon, Atlantic snook, Indian River black drum, channel bass and Florida spotted seatrout on the Mosquito Lagoon and Indian River
Cocoa Beach redfish guide using light tackle. Flats fishing guide minutes from Orlando, Kissimmee, Disney, Ponce Inlet, Port Canaveral, Ormond Beach, Daytona Beach, New Smyrna Beach, Titusville, Edgewater, Oak Hill and central Florida's Atlantic Coastt.