Mosquito Lagoon Light Tackle Flats Fishing Boats
Here is some very useful information that will help you choose, understand and decide on how many anglers can fish in a flats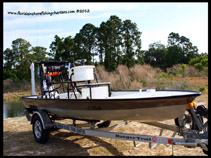 boat here on the Mosquito Lagoon and Indian River Lagoon system successfully among these grass flats, comfortably and also be able to enjoy the day without feeling cramped or over crowded on board. The backcountry waters of the Mosquito Lagoon and Indian River here in east central Florida are very shallow, ranging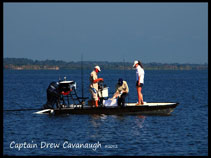 from inches to a couple of feet in depth on average, so the boats we use all float, run and draft inches of waterline at a time. The flats boats that are used here are typically any where from 15 to 18 feet in length and weigh any where around a few hundred pounds each depending upon their construction and design.
These skiffs are usually rated for a capacity of passengers from one to five people on board, however understand that one of those persons must be the captain at any given time. Florida Inshore Fishing Charters uses a fully equipped professionally designed Ranger Banshee Extreme flats boat equipped to fish one or two or three anglers at any given time. This boat can easily give you more than enough room to move freely about the boat without feeling closed in.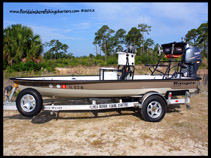 I understand that families and friends want to stay together and there is also a cost factor involved of booking another guide, but if you have several anglers consider booking multiple boats. Just because a boat has a capacity of carrying 4 or 6 persons does not mean you can fish this many people and enjoy the charter. Several guides will charge you the basic price for one angler and then an additional charge for each additional angler above that amount. These prices range from $50 to $250 for each extra angler on board. Depending on the quality of the guide or boat. So after these costs are factored in a second boat starts to become more of a choice for a better day on the water.
I look forward to seeing you out here for a great day of sight fishing the Mosquito Lagoon and Indian River.
Ranger Boats Saltwater Skiffs
Florida Inshore Fishing Charters Site Map
Captain Drew Cavanaugh
Florida Inshore Fishing Charters
New Smyrna Beach, Florida
Cell/352-223-7897
Email us at: New Smyrna Beach Light Tackle Saltwater Sight Fishing Charters
Visit our home page: Sight Fishing The Mosquito Lagoon For Redfish
Located along central Florida's beautiful Atlantic Ocean near New Smyrna Beach, Titusville and Cocoa Beach.