Mosquito Lagoon Spotted Seatrout Fishing Charters
The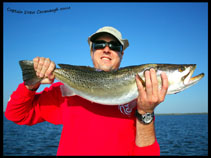 Mosquito Lagoon and Indian River Lagoon system here in east central Florida is home to some of the best spotted seatrout fishing in the world. The Indian River is home to the world record according to the IGFA. Spotted seatrout can be some of the best sport fish to target out here among the grass flats. These fish range anywhere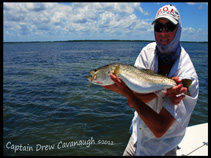 from 1 pound up to a common weight of 8 plus pounds. Trout over 8 pounds, gator trout, are seen and pursued on a daily basis.
Trout fishing here in central Florida can be compared to freshwater fishing for largemouth bass. Due to the trout tend to shake their heads and breach the surface after being hooked. Spotted sea trout can also be targeted quite often and successfully using top water plugs which is by far one of the best ways to fish for any species.
Ever since the ban of the gill net several years ago the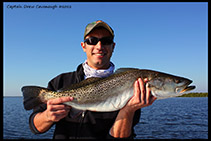 Florida seatrout have begun to come back tremendously. However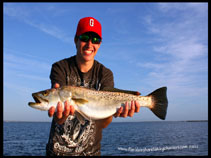 commercial fishing is still allowed due to a loop hole in the current law. With the up and coming closure in October 2018 of commercial fishing in the Merritt Island National Wildlife Refuge and Canaveral National Seashore National Park along with local and statewide support to classify these precious fish to be a game fish status will be a much welcomed sight among those in the sport fishing world.
In the state of Florida there is no commercial sale of any game fish or wild game, so once they are classified in this manor as a recognized game fish their numbers will most likely sky rocket even further. There really is no reason to have any commercial fishing or hunting in any national park in the United States.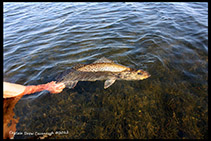 Along with the support of of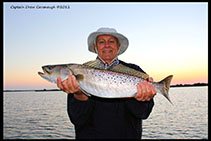 the public on this issue the area will remain the top spot to target these fish.
Among the back country waters these predators are considered to be the lions and tigers of the flats. Aggressive and extremely great fighters. Very intelligent and extremely cautious makes them an apex predator to be sought after among anglers alike. Making these saltwater sport fish a main target on fly or spin. Artificial and live bait tactics. To catch a big gator seatrout is by far an accomplishment beyond belief. Something to be extremely proud of.
Florida Inshore Fishing Charters Site Map
Captain Drew Cavanaugh Orlando Seatrout Fishing Guide
Florida Inshore Fishing Charters and Near Shore Beach Fishing Trips
Light tackle flats fishing Cocoa Beach, New Smyrna Beach, Titusville, Edgewater, Oak Hill and Daytona Beach.