April 25th, 2016 Mosquito Lagoon Backcountry Fishing Report
The Mosquito Lagoon,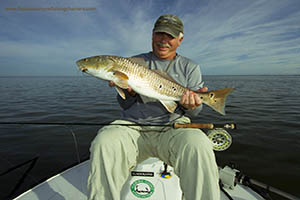 Indian River and the backcountry waters here in east central Florida have been the main focus of flats fishing and sight fishing charters for this spring time of 2016. Despite the recent fish kill that happened in the BANANA RIVER, which is NO WHERE NEAR THE MOSQUITO LAGOON or north Indian River. The fishing here has been outstanding and will continue to improve! It is a typical spring time here in east central Florida.
I want to be clear that the media and news has it wrong again,(not just with fishing! LOL) and is no where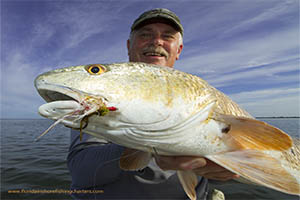 close to the truth about the fish kill or algae bloom that has happened here in Florida. A lot of stuff that you see on the news is from big sugar destroying the southern waters of Florida near the Everglades and is not really effecting us this far north. But that still needs to be stopped!So I am going to clear a few things up here. Watch this video to see what is going on now with some beautiful tailing redfish!
A massive fish kill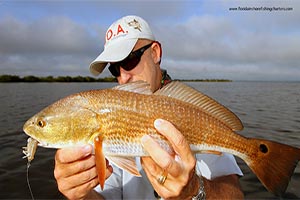 happened over an hour south of the Mosquito Lagoon, NOT HERE. It is "part" of the Indian River and in the Banana River, the Mosquito Lagoon is part of this system. Which is over 100 miles long so the media just says "fish kill in Florida on the Indian River", and therefore people think all of it. Like saying fish kill on Lake Michigan? Which part? NOT TRUE. These are separate bodies of water. Plus from talking to colleagues in the southern region they say the Banana River and that part of the Indian River are starting to improve.
So with this said, let's talk about what has been going on here on the Mosquito Lagoon and the north Indian River. The past weeks have just been on fire with early morning action. Great tails, top water action and even a few tarpon being spotted. Check out the video above to see some of this from just a couple of weeks ago.
Spotted seatrout and black drum have been mixed in with redfish. Using a DOA Shrimp for sight fishing tails is a great choice of lure or a shrimp or crab pattern fly on a 7 or 8 weight fly rod and reel. If you want to get out there and have a great flats or near coastal trip in central Florida give me a call. As the warmer months approach the fishing will just get better and better. Another month and beach tarpon will be a prime target!
Please with all of the game-fish you are catching practice catch and release, including the trout and black drum. This will make them possible to be caught tomorrow for the next person.
Captain Drew's Cell • (352)223-7897 • email • [email protected]


Past Central Florida Fishing Reports
2006 to 2009 Archived • Ponce Inlet, Mosquito Lagoon, Port Canaveral, Indian River and Sebastian Inlet Fishing Reports
2010 to 2015 Archived • Port Canaveral, Indian River, Mosquito Lagoon, Sebastian Inlet and Ponce Inlet Fishing Reports
2016 to 2020 Archived • Sebastian Inlet, Port Canaveral, Indian River, Mosquito Lagoon and Ponce Inlet Fishing Reports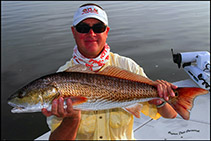 Orlando Flats Fishing Guide
Captain Drew Cavanaugh • Florida Inshore Fishing Charters Cocoa Beach