Orlando Saltwater Light Tackle Flats Fishing Guide
Captain Drew Cavanaugh has been living near and fishing the central Florida inshore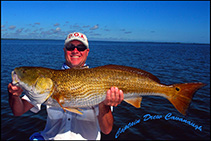 saltwater flats since the early 1980's. Devoting all of his time and passion into being a full time sport fishing charter guide on the Mosquito Lagoon, Ponce Inlet, Indian River and all of central Florida's near shore Atlantic waters close to Orlando. Specializing in light tackle spin fishing,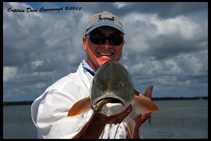 fly fishing and sight fishing the inshore backcountry flats of east central Florida's saltwater lagoon systems along with the seasonal near coastal fishing.
From fishing the inland lakes and rivers of both Montana and Florida to surf fishing Florida's coastal waters from Daytona Beach to Cocoa Beach, to fishing the no motor zone of the Banana River for big black drum and red drum to reeling in giant bull redfish, Atlantic tarpon, sea trout and snook on the Mosquito Lagoon. Fishing has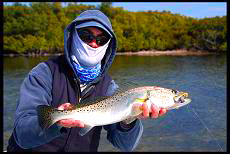 always been a very big part of his life.
Captain Drew was born and raised in Montana, now resides and fishes professionally full time year round on the "Redfish Capital of the World", his home, back yard and office, the Mosquito Lagoon, Ponce Inlet and Indian River Lagoon system. Having lived and fished in central Florida for over 32 years now he is an active member and supporter of the Coastal Conservation Association , the Federation of Fly Fishers Guide Association, the Florida Guides Association, the Ocean Conservancy, the IGFA, Snook Foundation, NACO, APCA among many others.
He is a fully insured United States Coast Guard licensed captain, holds a valid current 2013 federal CUA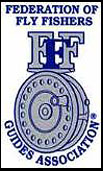 business permit (#007) to guide in the Canaveral National Seashore and the Merritt Island National Wildlife Refuge and all necessary state of Florida fishing licenses. He is highly experienced in artificial, light tackle, live bait and fly fishing tactics on the pristine back country saltwater flats of the Mosquito Lagoon, Ponce Inlet and the north Indian River Lagoon system.
Residing on the Mosquito Lagoon in Oak Hill Florida near New Smyrna Beach, Cocoa Beach and Daytona Beach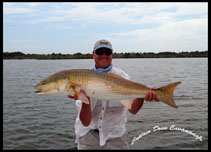 with private access to the back country waters on the Indian River. This allows him to have easy, daily and quick access to fishing the Mosquito Lagoon, Indian River, Ponce Inlet and the Halifax River, along with all of central Florida's coastal waters. More often than not he is on the water fishing or just exploring, even on his days off. He takes extreme pride in running Florida Inshore Fishing Charters full time to ensure you have one the best inshore light tackle flats fishing trips ever. A world class trophy fishing trip by any definition.
Come along and let him share his knowledge with you for a great experience and a fishing trip to remember for a very long time to come. See the Mosquito Lagoon and Indian River Lagoon system on central Florida's beautiful Space Coast for memories to last forever.
Captain Drew Cavanaugh - Click here to email us! or call: Cell -352-223-7897
New Smyrna Beach Florida Inshore Fishing Charters - Web Site Map