Archived Mosquito Lagoon Light Tackle Fishing Guide Reports
August 21st, 2010 Mosquito Lagoon Sight Fishing Charter Report
The following is an archived fishing report for the above date and location. If you are looking for the most current fishing reports on the Mosquito Lagoon, Ponce Inlet and Indian River then please visit our reports page.
If you are here in the Orlando, Cocoa Beach, Titusville, Edgewater, New Smyrna Beach or Daytona Beach area and are looking into going on an inshore light tackle flats fishing charter for redfish, seatrout, tarpon, snook or black drum then please give me a call at (352)223-7897 or email me at [email protected] and I will be glad to see if I can meet your needs or answer any questions you may have. I am a full time year round resident of Oak Hill and an Indian River & Mosquito Lagoon fishing guide specializing in light tackle saltwater fly fishing, spin fishing and sight fishing.
Thank You
Captain Drew Cavanaugh

With one of the hottest summers on record here in Florida and water levels down a few weeks ago, now back on the rise, salinity levels returning to acceptable conditions, and last but not least, it is not cold out, the fishing here on the Mosquito Lagoon has been steady to great. The weather for sight fishing in Florida is by far perfect! Extremely hot days call for early starts to beat the heat along with getting into optimal position before the feeding frenzies begin. Water temperatures are getting into the 90's at times and the air temp is feeling like the 100's. However an early start does not mean that the fish are just biting in the morning. This is what it is all about.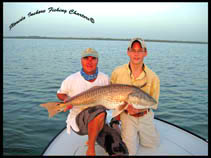 Saltwater fishing in Florida. There is nothing at all better on the planet.
As the morning sun rises feeding redfish can be seen and are being caught in very good numbers among the backcountry grass flats of the Mosquito Lagoon and in the Indian River from the New Smyrna Beach waters down through the MINWR flats. Redfish in the average size range of 5 to 12 pounds are the normal for tails among the pristine shallow waters with a fish here and there over 15 and even 20 pounds.
The reds are moving into areas now that a few weeks ago were not accessible due to the lower water conditions we were experiencing here in east central Florida. Now that the water is rising this is opening up new feeding grounds for them and other predators including the nicer trout and black drum. Think of this as a pasture with your cattle in it.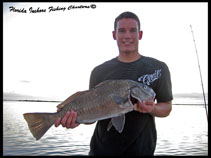 You have been keeping your herd in a 50 acre area and now you allow them into the rest of the property. They go crazy!
Big bull red drum are moving throughout the lagoon and are mostly active at day break and late afternoon towards dusk. They can be seen moving among deeper grass flats and along the bars and drop offs where bait fish are present and thick.
Black drum have been present and mixed in as well as being found in separate schools in areas where the red fish are moving about as well and are feeding on crabs, clams and worms. Gator trout are scattered about the grass flats and are very elusive unless you are able to approach them with great stealth. Throwing a top water plug is always a great start to a Floridian summer on saltwater back country waters. The activity of bait fish crashing all around you calls for this. You can just feel it in your veins.
The best choices for baits for redfish recently have been D.O.A. CALS in several colors and the D.O.A. shallow running Bait Buster. Other great go to baits this time of year always include a well placed finger mullet or mud minnow. However if you are able to catch them yourself a nice live blue crab about the size of a silver dollar on a circle hook and then placed in front of a redfish or black drum with a perfect presentation will always work very well.
With a live crab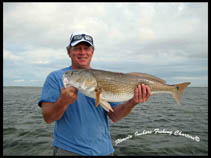 it always boils down to the soft presentation without scaring the fish off. They do tend to make some noise on splash down. However the fish just can not resist it. As always when fishing the flats use your push pole as much as you can, give your fellow anglers around you more than enough space. Also take your time too! Do not rush yourself to get into position too fast. This is one of the biggest faults to over come when targeting fish that are feeding in very shallow water. The key is just not to rush it.
Please remember to handle every fish you catch with the utmost caution and extreme care. This will ensure a higher survival rate upon their release.

Captain Drew Cavanaugh New Smyrna Beach Light Tackle Charter Fishing Guide