December 21st, 2006 Indian River Sight Fishing and Mosquito Lagoon Flats Fishing Report
The following is an archived fishing report for the above date and location. If you are looking for the most current fishing reports on the Mosquito Lagoon, Ponce Inlet and Indian River then please visit our reports page.
If you are here in the Disney, Cocoa Beach, New Smyrna Beach, Orlando or Daytona Beach area and are looking into going on an inshore light tackle flats fishing charter for redfish, seatrout, Atlantic tarpon, IRL snook or black drum then please give me a call at (352)223-7897 or email me at [email protected] and I will be glad to see if I can meet your needs or answer any questions you may have.
Thank You
Captain Drew Cavanaugh

With the first day of winter arriving means great weather for us in Florida. These are the times when stealth and patience will pay off fishing the flats for redfish on the Mosquito Lagoon and Indian River. This is why the Mosquito Lagoon is known as the redfish capital of the world! Mosquito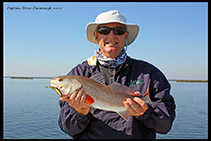 Lagoon light tackle fly fishing is always great out here as well. Big seatrout are every where in the northern and southern Mosquito Lagoon.
Fly fishing for redfish is best with using a crab or shrimp pattern. Soft casts and great presentations will make this fishing more productive for you. However do remember that all seatrout are to be released until the first of the year. Actually at all times you should let these fish go. Practice catch and release for this type of fishing. This is why they raise fish in a tent. Remember big gator trout are the breeders. We have farms to raise fish for human consumption so make the Indian River Lagoon and Mosquito Lagoon a sport fishing paradise. Catch and Release will pay off for future fishing trips! Trust me!